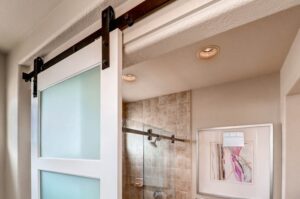 (September 23, 2013, Denver, Colorado) — It was just October 2012, when Denver, Colorado-based metal hardware manufacturer Goldberg Brothers, Inc. took a chance on a new product line based on an old idea: sliding barn door hardware kits for interior residential installation. Barn door track has been around since the 19th century and migrated long ago from actual barn doors to more domestic application on interior residential doorways. So, Goldberg Brothers was very late to market.
"We knew it was a gamble, going in," said Goldberg Brothers president John Golesh. "We had to find a niche in an established market by doing things smarter. We knew our barn track had to be as good as or better than what our competitors were making. We knew we had to offer an attractive price at retail by being as efficient as possible in manufacturing. And we had to be responsive to the needs of our customers," said Golesh.
That gamble has paid off, he said. "This has definitely been the most successful product launch we've had in many years," said Golesh. "We're thrilled with the response we're getting from retail customers and commercial builders, as well as our wholesale partners. Not only have we seen tremendous growth in orders since we started our barn track line last year, we've been getting requests for more and more customization options."
With that in mind, Golesh said, Goldberg Brothers has recently expanded the color options of its barn door track hardware to four different shades and has complemented the original products with matching door pulls, privacy latches and decorative accent trim accessories.
Goldberg Brothers barn door track – which is a system of components that allow a door to be suspended from wheeled brackets that slide along a steel rail above a doorway – was introduced to market with two powder coating color options: black and silver. Now, the product line is also available with two additional colors: architectural bronze and rustic brown. Both new colors give the hardware a more aged, weather-worn appearance. Door pulls now offered include traditional barn door-style pulls that bolt on to the door surface, and recessed pulls that are flush mounted. Both types of pulls are available in various sizes for a customized look.
Privacy latches allow sliding doors to be locked from the inside. However, the latches can easily be released from the outside in the event of an emergency. Similarly functioning locks have become standard equipment for conventional bedroom and bathroom doorknobs. Goldberg Brothers privacy latches allow that same balance of privacy and safety for sliding doors.
The new line of accent trims transform the utilitarian look of unadorned barn door hardware with any of a number of decorative themes. The pairs of trims are die-cut steel silhouettes that bolt on to the face of the wheeled brackets that are attached to the upper corners of sliding doors. The trims are available in dozens of themed shapes including sports, nature, the Old West, movies, animals and more. "With our accent trims, our customers can really make our barn track their own," said Golesh. "Some of our trims will look great in kids' bedrooms or play rooms, others are ideal for pantry doors, home theaters or even man caves."
Goldberg Brothers barn track hardware and accessories are sold in more than 150 builders supply stores and lumber yards across the United States, and can be purchased at wholesale quantities through a network of regional wholesale distributors. For further information including product photos and a list of dealers, visit www.GoldbergBrothers.com.
Established in 1897, Goldberg Brothers, Inc. is a manufacturer of metal hardware products for both residential and commercial applications. Over the course of its long history, Goldberg Brothers has been known for such diverse products as camp stoves, fishing reels and specialty hardware for the motion picture industry, including movie film reels and projection port windows. Its line of décor and furniture products built with vintage-design film reels are installed in movie theaters and home theaters around the world. Most of the company's current products are handcrafted in its Denver, Colorado headquarters.